DBC – Ability First Awards Nominee
"The annual Ability First Coalition Champion Awards celebrate and honour businesses, companies, individuals and organizations that have hired and retained people with disabilities in London, Ontario and surrounding area.
The Small Business Award recognizes a company under 50 employees, that develops and applies the concept of ability first and best practices in recruitment, retention, and talent management."
Ability First,. 'Small Business Award Nominees'. N.p., 2015. Web. 26 Nov. 2015.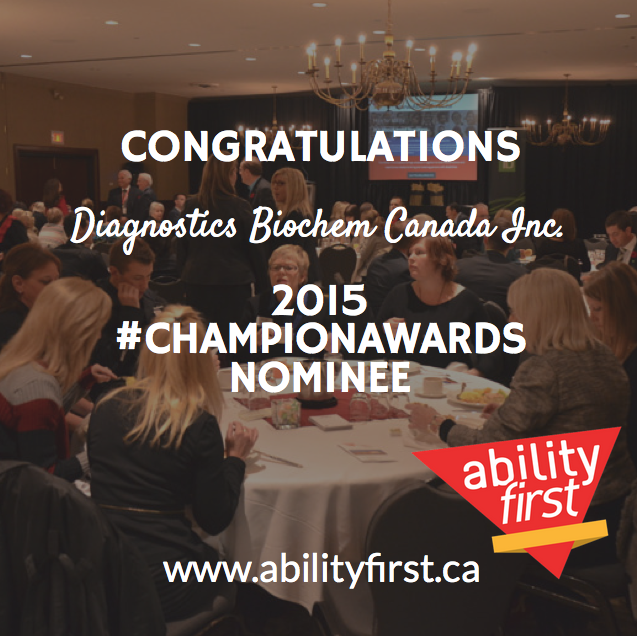 Congratulations to all the nominees!
Brown's Auto Supply
1859 Oxford Street East #5
London, ON
Burger King
1295 Oxford Street East
London, ON
Diagnostics Biochem Canada Inc.
41 Byron Avenue
Dorchester, ON
Extreme Indoor Golf
1790 Dundas Street East
London, ON
Hampton Inn by Hilton
840 Exeter Road
London, ON
Lone Star Texas Grill
660 Richmond Street
London, ON
Meals on Wheels
356 Queens Avenue
London, ON
Scene Magazine
35 Hammond Crescent
London, ON
TriHQ Inc. 
1012 Hubrey Road
London, ON
Wok Box
1735 Richmond Street
London, ON